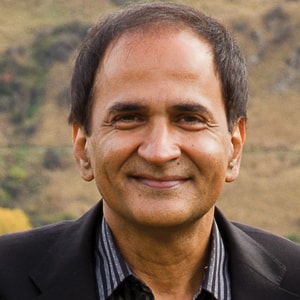 Mahendra Tappoo
Founding Trustee and Chairman of Sai Prema Foundation
Executive Director and Member of Board of Directors of Tappoo Group of Companies (a Multi-faceted Business Group in Fiji)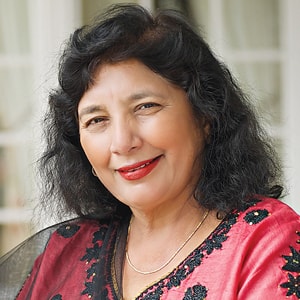 Maya Tappoo
Founding Trustee of Sai Prema Foundation
Former Radio Presenter for a Hindi Radio station in Fiji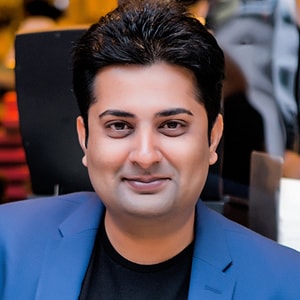 Sumeet Tappoo
Foundation Director of Sai Prema Foundation and Chairman of the International Advisory Board
Professional Singer and International Concert Performer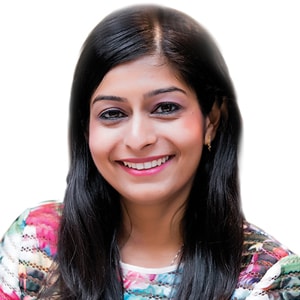 Dr Krupali Tappoo
Director of Sri Sathya Sai Sanjeevani Medical Centre Fiji, Medical Coordinator and Member of Executive Committee of Sai Prema Foundation
General Practitioner, Tappoo City Medical Centre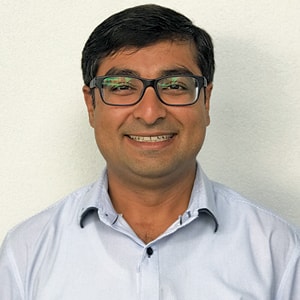 Remal Tappoo
Secretary and Member of Executive Committee of Sai Prema Foundation
Executive Director of Tappoo Group of Companies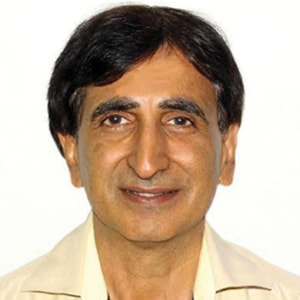 Kamlesh Tappoo
Trustee of Sai Prema Foundation
Executive Director and Member of Board of Directors of Tappoo Group of Companies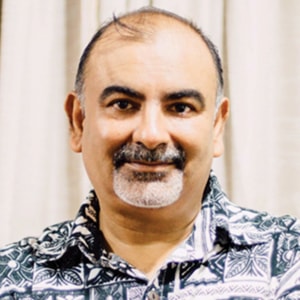 Rajendra Kumar
Trustee of Sai Prema Foundation
Board Member of Frank Hilton Organisation Fiji and Treasurer of ABC Foundation Fiji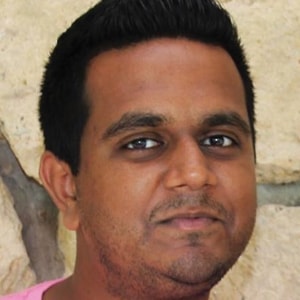 Pratin Lal
Treasurer and Head of Executive Committee of Sai Prema Foundation
Senior Finance Professional at Tappoo Group of Companies
Projects
Sai Prema Foundation — Centre for Love and Peace and Centre for Human Development inaugurated in April 2019
Sri Sathya Sai Sanjeevani Medical Centre — Free medical clinic and pharmacy located at Suva was inaugurated in the year 2018. As on July 2019, more than 3,000 patients have been provided with general medical consultations, dietetic consultations, and medicines
Health on Wheels is a Free Medical Outreach Programme catering to the health and well-being of Fiji's rural population, providing a wide range of quality medical and dental services. More than 3,500 patients across 11 villages have been provided medical services absolutely Free of Cost. The Divine Mother and Child Programme catering to the needs of pregnant mothers and little children is also an integral part of this initiative
Gift of Life refers to Pediatric Cardiac Services (Open heart surgeries, catheterisation lab procedures, and other cardiac interventions) done completely Free of Cost for over 70 children. Estimated Savings for families of Fiji is over FJD $6.9 million
Medical Scholarship Programme provides free scholarships to train Fijian doctors in the field of Pediatric Cardiology
Sri Sathya Sai Sanjeevani Children's Heart Hospital Fiji – Free Pediatric Cardiac Care Hospital for the entire Pacific Region is under construction (to be inaugurated in April 2020)
"This will be one of the largest projects undertaken by an NGO in Fiji's history"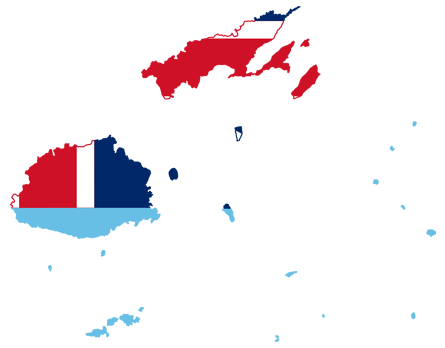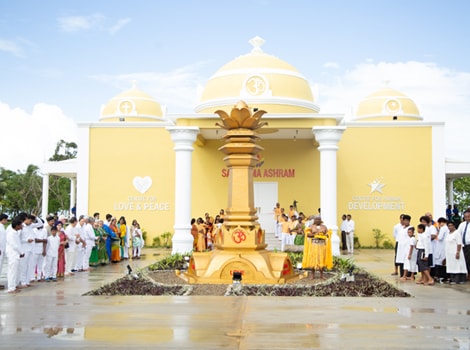 Sai Prema Centre for Human Development, Fiji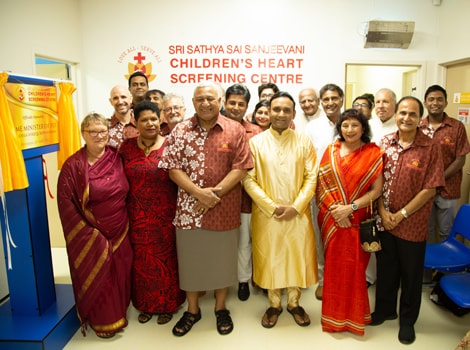 Honourable Prime Minister of Fiji, Mr Josaia Voreqe Bainimarama at the Sri Sathya Sai Sanjeevani Children's Heart Screening Centre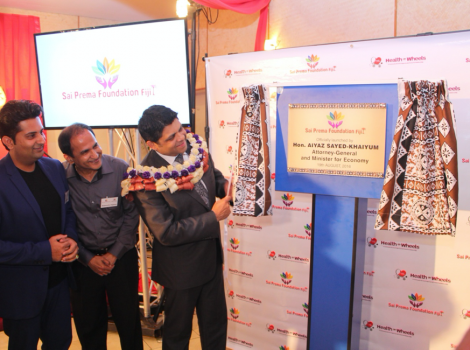 Sai Prema Foundation Launch by
Attorney-General and Minister for Economy, Hon. Aiyaz Sayed-Khaiyum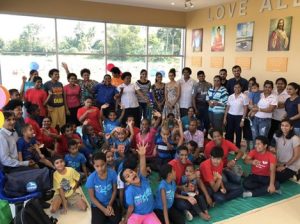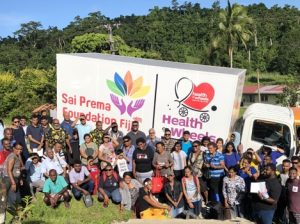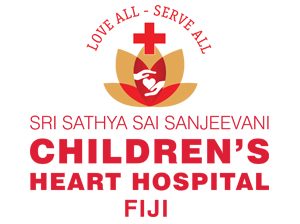 PROJECTS
Be a Hero — This is a Blood collection drive which has won Sai Prema Foundation, the awards for Highest Blood Collection in the Central Region and Second Highest Blood Collection in the Western Region in 2017 and 2018
Heart Beat is a child heart screening initiative. Over 200 children (new born to 16 year olds) received Echocardiogram screening to test for Congenital and Rheumatic Heart Diseases. Subsequently in April 2019, the Sri Sathya Sai Sanjeevani Children's Heart Screening Centre was inaugurated at Suva for free heart screening
Sai Annapoorna — Served over 15,000 meals to the underprivileged and needy families, eldercare, special care and Orphanage Institutions
Children of God is a project to look after the needs of orphaned children
One Fiji – An opportunity for all Fijians to unite together, serve and help make a difference to the lives of the underprivileged of Fiji
Sri Sathya Sai Sanjeevani Children's Heart Hospital Fiji – Free Pediatric Cardiac Care Hospital for the entire Pacific Region is under construction (to be inaugurated in April 2020). This will be one of the largest projects undertaken by an NGO in Fiji's history.
SOUTH PACIFIC'S FIRST SUPER-SPECIALITY PAEDIATRIC CARDIAC HOSPITAL – SRI SATHYA SAI SANJEEVANI CHILDREN'S HEART HOSPITAL WAS INAUGURATED AT SUVA, FIJI BY THE HONOURABLE PRIME MINISTER OF FIJI, MR JOSAIA VOREQE BAINIMARAMA, IN THE PRESENCE OF SADGURU SRI MADHUSUDAN SAI
April 27, 2022 – Sri Sathya Sai Sanjeevani Children's Heart Hospital, Suva, Fiji – Transcending All Barriers of Affordability, Accessibility and Availability – A World-Class Completely Free of Cost Compassionate Heart Care Facility for the Children of Fiji
Sri Sathya Sai Sanjeevani Chain of Child Heart Care Hospitals has chosen to expand its footprint to the most-needy populations of the planet, and thus has worked hard to inaugurate the first-of-its-kind children's heart hospital in Fiji. Under the leadership of Sadguru Sri Madhusudan Sai, the Sai Sanjeevani Hospitals have gained experience for a decade in the field of providing expert completely free of cost child heart care to thousands of children in India. With the confidence on its capability, and with the value of compassion at its very core, the healthcare mission in Fiji started with the establishment of a Non-Governmental Charitable Organisation – Sai Prema Foundation in August 2016. A three-phased plan, commencing with the Sri Sathya Sai Sanjeevani Medical Care Centre in April 2018, followed by Sri Sathya Sai Children's Heart Screening Centre in April 2019, and now the Sri Sathya Sai Sanjeevani Children's Heart Hospital, this mission has grown steadily with the determination to do more-good.
The Hospital is a state-of-the-art 54-bedded facility spread across 21,000 sq.ft. At the centre of the Hospital is a giant red heart which perfectly describes all that the Hospital stands for—it is all about the heart, both physically and metaphorically. This is the largest project ever undertaken by a Non-Government Organisation (NGO) in Fiji's history. The Hospital will fill the void of absolutely no access to paediatric cardiac service in the Pacific belt, and will save the families needing to take their children overseas for paediatric heart care, which costs in excess of FJD$100,000.
The dignitaries present at the event were – Mr Josaia Voreqe Bainimarama – Honourable Prime Minister of Fiji; Mrs Maria Voreqe Bainimarama – the PM's wife; Sadguru Sri Madhusudan Sai – Social and Spiritual Leader; Mr Robert Bozzani – Philanthropist from South California who has supported many noble initiatives of Baba for several decades; Dr Shaun P Setty – Paediatric and Adult Cardiac Surgeon, who is also the Larry and Helen Hoag Foundation Endowed Chair in Paediatric Cardiovascular Surgery at Miller Children's Hospital in Long Beach, Southern California; Mr Mahendra Tappoo – Chairman and Founding Trustee of Sai Prema Foundation; Mr Sumeet Tappoo – Director of Sai Prema Foundation and Mr C Sreenivas – Chairman of Sri Sathya Sai Health and Education Trust. Dr Arvind Thiagarajan – CEO of HD Medical and Inventor of HD Steth; Mr Tony Greubel – US Chargé d'Affaires for the US Embassy of Fiji, and many other dignitaries from over 12 countries attended the event.
Mr Ajay Jain Bhutoria – Commissioner to US President Joe Biden's Advisory Commission for the Federal Government of the United States of America came to the event to bestow Sai Prema Foundation with an award from the California State Legislative Assembly, for its remarkable service in saving the lives of the children of Fiji. During the occasion, South Pacific Community and Sai Prema Foundation shared a joint collaboration for combined efforts on capacity building and research.
The Honourable Prime Minister of India, Mr Narendra Modi joined the inauguration of the Hospital virtually.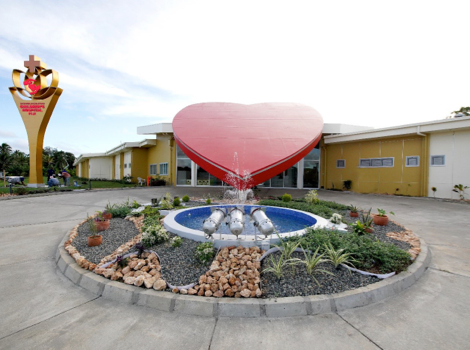 Sri Sathya Sai Sanjeevani Children's Heart Hospital, Suva, Fiji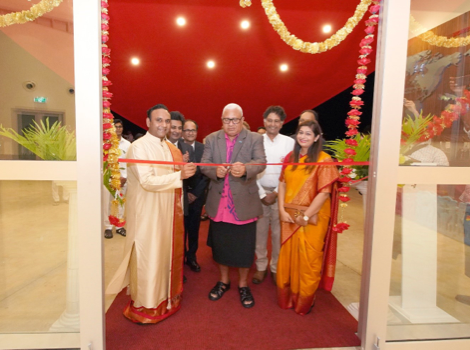 Inauguration of the Sri Sathya Sai Sanjeevani Children's Heart Hospital by the Honourable Prime Minister of Fiji, Mr Josaia Voreqe Bainimarama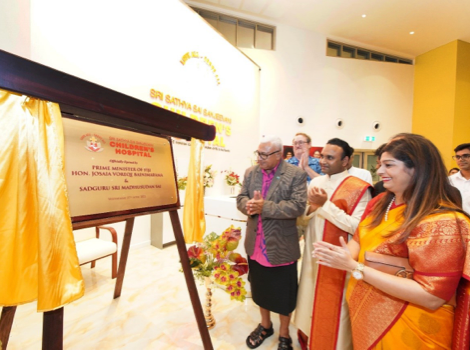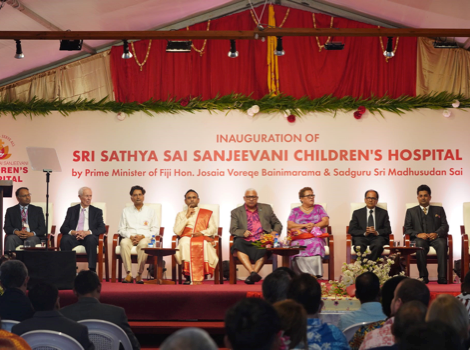 The dignitaries present at the event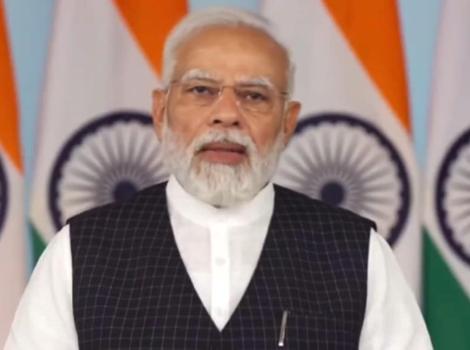 Inaugural Message by Honourable Prime Minister of India Shri Narendra Modi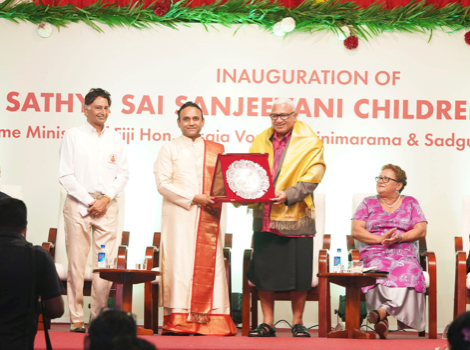 Felicitation of Honourable Prime Minister of Fiji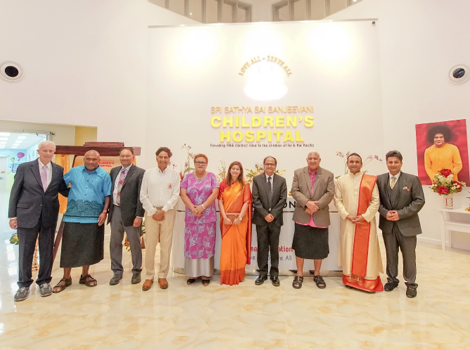 Group Picture – Prime Minister of Fiji with Sadguru Sri Madhusudan Sai and members of the Sai Prema Foundation, Fiji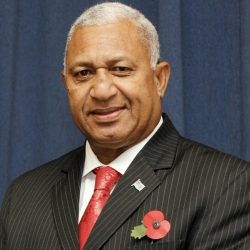 Hon. Josaia Voreqe Bainimarama
Prime Minister of Fiji
"You are invaluable partners to my government, and the tremendous impact you have had on the lives of young Fijians, in particular, cannot be fully captured in words. The achievement of the Sai Prema Foundation is not only limited to the medical centre. Your charitable work throughout the country has already touched the lives of thousands of our people."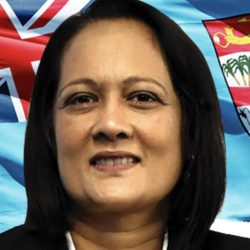 Hon. Rosy Sofia Akbar
Minister for Poverty Alleviation and Former Minister for Health and Medical Services of Fiji
"The Sai Prema Foundation generously facilitated the team from the Sri Sathya Sai Sanjeevani Hospital in Naya Raipur, India to perform pediatric cardiac surgeries for children in Fiji, completely Free of Cost. This has helped the Fijian families save millions of dollars. The lives of these children and their families have changed for the better. For these children to be given the surgical treatment that they were in desperate need of, and to help them live productive and fulfilling lives is truly awe-inspiring. It is humbling to know that there are so many individuals who have offered their time and skills for saving numerous lives, and providing the gift of life to children."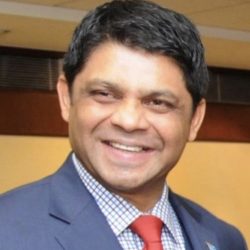 Hon. Aiyaz Sayed-Khaiyum
Attorney-General and Minister for Economy of Fiji
"I would like to acknowledge Sai Prema Foundation for undertaking this initiative and bringing Dr Ashish Katewa (Medical Director, Sri Sathya Sai Sanjeevani Hospitals) and his team to Fiji. They have looked at the bigger picture by not just providing medical services but also investing in the knowledge base of our Doctors. The children who have been operated, have been given a new lease of life and their families have been blessed with a renewed sense of hope. This is very important for us and is very much appreciated."